Quality Certification
At Vikram hygiene Products, Quality control is at par with global standards and covers manufacturing Hygienic films, Poly compound & Masterbatches, Additives Masterbatch & hygiene products Medical Devices in a single premise. We have sourced refined laboratory equipment's from the world's leading manufacturers to outfit our units with an independent quality control department.
Different quality checks are taken into consideration for each step of processing. Our laboratory follows ISO 9001:2015, ISO 45001:2018, ISO 13485, ISO 14001:2015 Quality Management guidelines for performing and ensuring the best quality of raw materials, materials that are packed, in storage, in-process, and end products. We have skilled employees who have undergone rigorous training procedures to handle the quality control infrastructure.
To make sure that quality is maintained for the entire batch of products produced, we follow strict in-process monitoring practices. We identified the solutions that are innovative for maintaining the quality and the same is implemented for efficient quality assurance procedures.
VHP's Quality Management System shall be based on the logical approach to process and systems committing consistent quality of products and services in compliance with customer requirements, specifications, and international manufacturing standards. We are in the advanced stages of audits for the following proposed certifications.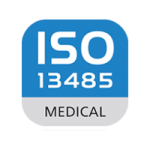 Vikram Hygiene Products (A unit of Vikram Nuvotech India Pvt. Ltd) is registered with the U.S Food & Drug Administration
for FY 2020 pursuant to Title 21,807 et seq. of the United States Code of Federal Regulations.
Product Code: OEA
Regulation Number: 878.4040
Product Code: OKI
Regulation Number: 878.4040